Clear Retail Tubes
Inexpensive, Semi-Rigid and Clear Plastic Tubes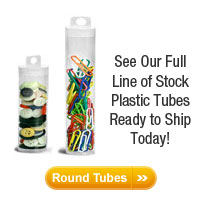 Our inexpensive, thin wall clear plastic tube packaging is recommended for lightweight or non-fragile items such as posters, confectionery products, house wares, novelties, toys or any items that require a unique, yet low-cost package. Great for those do it yourselfers (DIY) looking to create their own
Wanderfuls
TM
Centerpieces or candy favor tubes for your next social event.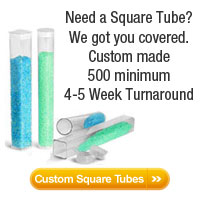 The thin wall clear plastic tubes provide the protection needed to house a consumer product for retail sale, yet remain economical enough for packaging a promotional item.
Various styles of closures are available that feature standard or hanging capabilities. Our thin wall clear plastic tubes have a clear bottom that is permanently adhered into the tube.
All Custom orders require a 4 week lead time and minimum orders of 500 pieces. NOTE: Caps are Sold Separately!

All plastic is recyclable and/or reusable
read our plastic recycling disclaimer for details.